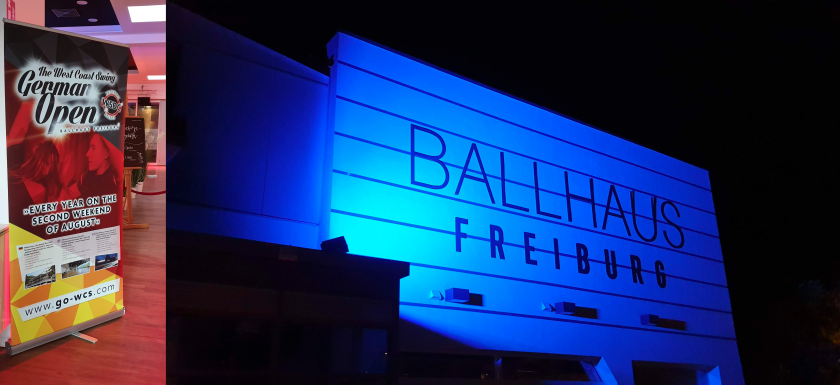 Let's take a look at what happened during that week-end from July 8 to 11 in Freiburg.
The city
Freiburg is a beautiful medieval clean and peaceful city.
The German Open took place in the biggest dance school in Europe in Ballhaus Freiburg. This beautiful school dance has a bar with some cocktails, snack, fruits and pastries.

The workshops
Workshops were teached by :
John Lindo & Jessica Cox
Wayne Powell and Aggi Dzierwa
Philipp & Ekaterina Wolf
PJ Turner & Tashina Beckmann-King
Laszlo Tarkanyi and Jula Palenga
Sylvain Pelé & Eszter Móricz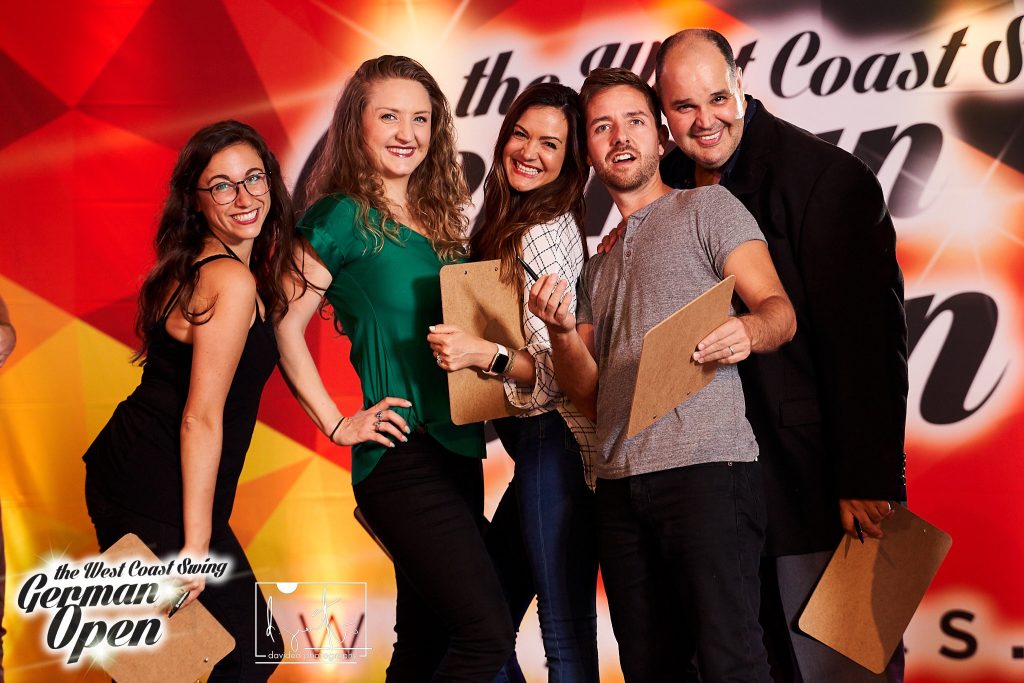 There were two kind of workshops, social and competitions. Two levels of each (newcomer/novice and intermediate/advanced in competition workshops)
The groups were homogeneous and balanced.
Workshops themes are imposed by the organizers, that allows westies to get a full formation at the end of the event. In competition level 2, workshops content was interesting, it was more based on concepts that improves the dance, than on patterns.
Parties & Ambiance
The event starts on thursday with a welcome cocktail party, every westie is welcomed with a free cocktail.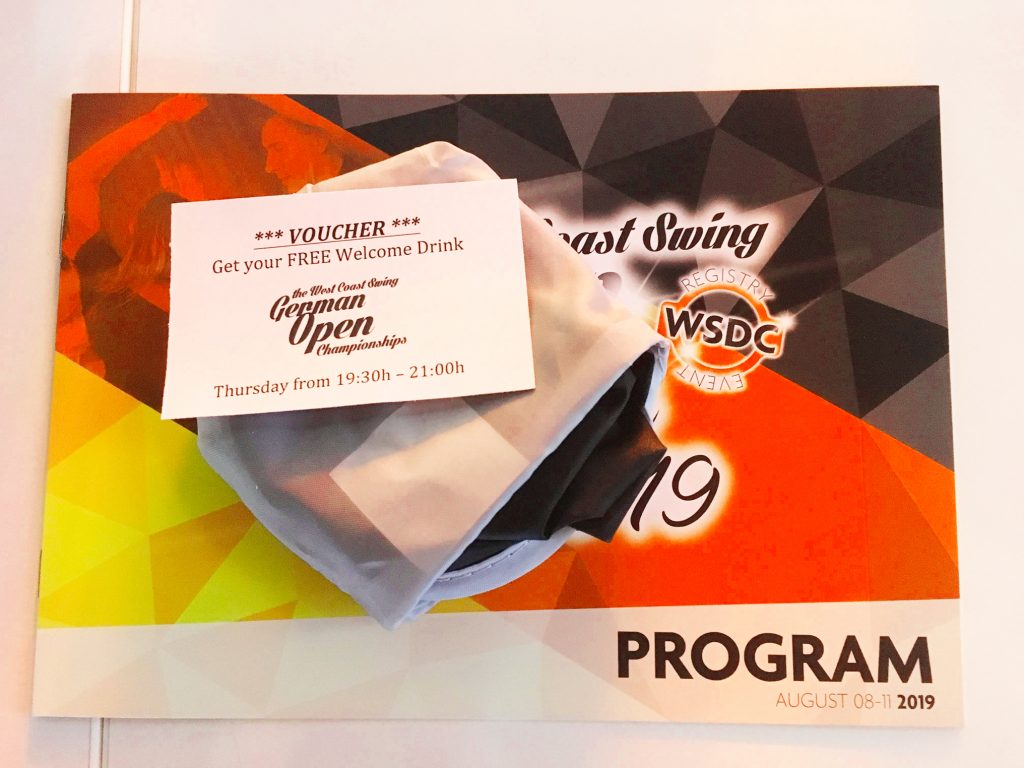 Christian Spengler, the main organizer and his wife (married two weeks before) open the event with a funny introduction of Polka. Everyone create a big circle and the partner changed quickly, everyone is encouraged to ask for dancer's name and that creates immediately a warmful ambiance.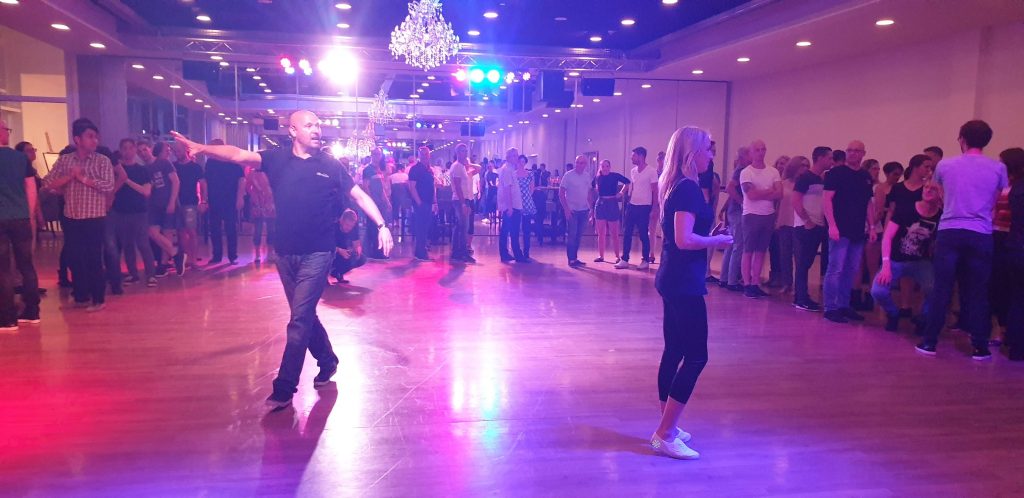 Friday and Saturday, the parties were in the big ballroom. The ambiance was good and warmful, we had some space to dance, but the temperature was a bit high. To take a break you can order a cocktail and take some fresh air on the terrace.

Wayne Powell, animate the event with efficiency and humor.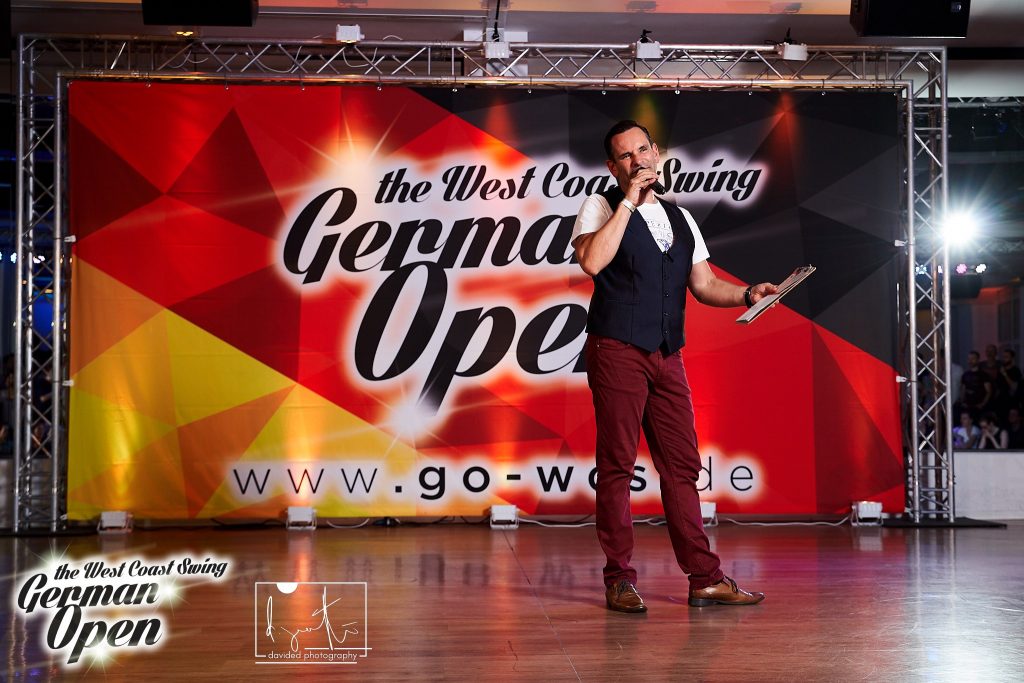 Saturday's night pro show was awesome, and we can note the performance of Maxime & Torri Zzaoui on this show.
Sunday night was a very cosy party with less westies but the best 🙂 Christian offers icecream to everyone!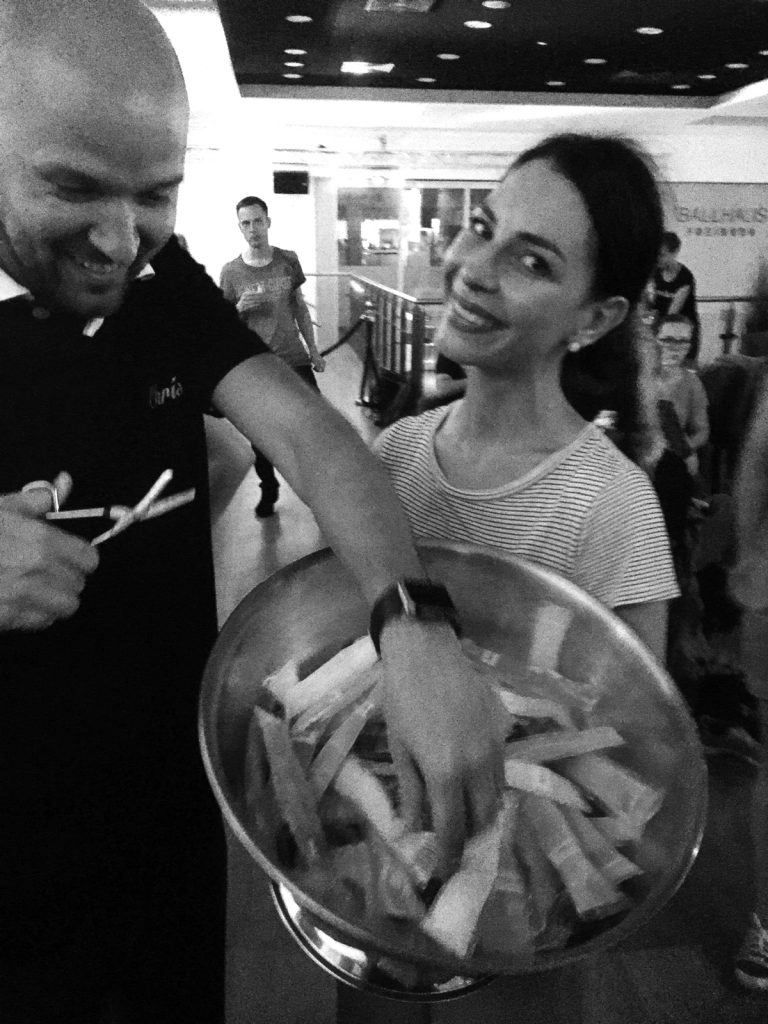 Time for social dancing was great thanks to full allskate finals in novice and intermediate j&j divisions.
Competitions:
There was two types of competition :
Strictly Swing (Master, Novice, and Open division)
WSDC Jack'n'Jill (Newcomer, Novice, Intermediate, Advanced, AllStar, Master)
The Master division has been well encouraged, competitions was well organized and there were wonderful finals on saturday night!
The awards were original, first, second and third place won a bottle of wine with each couple's picture on it (bottle of 75cl, if you travel by plane, remember to keep some space in your luggage 🙂 )
Testimonials
What I loved in this international event, is to dance with various people.

Every Pros teach West Coast Swing on their own way, and that's what I love in this event. I love the different kind of workshops : social & competitions. 2 days of competition seems to be too much for me and for some social only dancers. May be we can try to keep competitions on one day.

Paula
I did like German Open 2019, it was very well organized! If I had to add some improvements points, I will talk about the music, it was a bit too fast on thursday & friday nights and it was difficult to dance on it. I love the welcoming present : the range, the beautiful venue, I did like the welcome cocktail.

Claire
I liked the competitions organization, and it was very cool to keep a social ballroom during the competitions. We got a lot of space to dance, and that's rare in international events!

Marie
Competition's workshops were great. The event was very social, some of the pros have done a lot of social dancing especially Pj Turner, Tashina, Aggi & Wayne. Next year it would be great if the organizers could get a deal with a local restaurant to discover German Food and spend some great time with the others westies.

As an improvement point for next year, credit card payment at the bar would be great!

Jack & Jack
The German Open WCS 2019 best points :
The venue!
The size of the dancefloor : lot of space to dance!
The bar and the cocktails inside the ballroom.
The warmful, international and social ambiance.